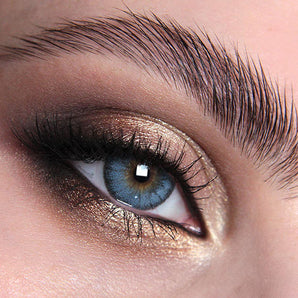 FIRST CLASS MAYFAIR ICE CONTACT LENSES ARE HERE
Goodbye boring - buy Mayfair Ice contacts online today.
Look, there are a lot of looks out
there in the coloured contact world.
You've got your blues, browns, greens and all the shades of in between, but there's something special about the blue that Mayfair Ice contacts give to you.
Is it the distinctive shimmer? Is it the glow and glimmer?
You can't really be sure, but you know there's a certain something tickling your senses when you see someone wearing Mayfair Ice contact lenses.
Give yourself that Mayfair mystique and see the difference it could make to you. It's fun to have a little fascination going on in your life.
THE MAYFAIR ICE MAGIC
The whole mystery and magic of Mayfair is in the quality of the blue.
It's a naturally beautiful shade but it brings a quality and stylish blue for you.
The name itself has a grace and gorgeousness about it. No wonder Mayfair is one of the ritzier areas of London. It's not just one of the most expensive parts of London, it's one of the most expensive parts of the World.
No wonder Mayfair is the priciest property in the game of Monopoly.
Now you can add some glitz and glamour to your face with Mayfair Ice contact lenses. Go on, you deserve it!
THE MAYFAIR STARE
Don't put your fun on ice. Set your eyes in some Mayfair Ice contacts. You'll be all set to bewitch and beguile everyone who looks your way – and let me tell you, you will get some looks.
Who's that? Did I see them on TV or in a movie? They'll be asking themselves and only you'll have the answer. Forget the same-old, same-old. Get a fresh start in your new Mayfair Ice contacts!
COLOUR YOUR WORLD
There's blue and then there's Mayfair Ice blue.
Because the colour is so outstanding, you will stand out in Mayfair Ice eye contacts. Lap up the attention and you may even feel just a little more confident and little more cheeky.
That's the difference Mayfair Ice contact lenses can give you. An extra bit of class and an extra edge.
You'll be anything but boring in your new coloured lenses. You can choose some special blue contact lenses to suit you. We would never tell you what to do… but…
Wouldn't it be nice to have Mayfair Ice contacts sparkling in your eyes?
A NEW LOOK IS EASY AS
Your Mayfair Ice contact lenses are light and soft to wear. Comfort is everything when you're wearing contacts and your new pair of Mayfair Ice contacts will make your eyes feel fresh and hydrated while you're looking your best.
Whether it's to show off as a one-off or razzle-dazzle them for a month or more, the Mayfair Ice contacts range has you covered.
Choose how long you want to brighten your days. They come in a choice of:
1 day Mayfair Ice contact lenses
1 Month Mayfair Ice contact lenses
3 month Mayfair Ice contact lenses
1 year 

Mayfair Ice contact lenses
Which way you go, is up to you. There's one thing you need to do.
You're already at the best place to make it all happen.
You can buy Mayfair Ice contacts online today.
Grab a pair right here and now at MesmerEyez.
MesmerEyez – you can get a captivating look 24/7.